Delicate Arch Viewpoint Inaccessible

Wolfe Ranch and the hiking trail to Delicate Arch are open, but flood waters and mud have blocked the road to Delicate Arch Viewpoint.
Safety in Bear Country

Black bears have been seen near Devils Garden Campground. Don't lure or feed them. Dispose of trash in designated receptacles; don't leave it in bags or other soft containers. Store food in vehicles or hard containers when not being prepared or consumed. More »
2014 Community Artist in the Parks Announced
Date:
March 20, 2014
Contact:
Sharon Brussell, 435-719-2142
The National Park Service (NPS) Southeast Utah Group is pleased to announce Serena Supplee as the 2104 Community Artist in the Parks (CAIP).

Created in 2009, the CAIP program highlights the connection between a local artist and the surrounding landscape, particularly Arches and Canyonlands National Parks and Hovenweep and Natural Bridges National Monuments. This year's artist has the added honor of serving during Canyonlands National Park's 50th Anniversary Celebration.
The Community Artist creates work within the parks during a minimum of six visits per month, April through November, and shares his/her inspiration and creative process with visitors from around the world. The artist's work will be sold in the Arches and Canyonlands National Park bookstores in cooperation with Canyonlands Natural History Association.
Serena is looking forward to engaging visitors in both the front country and the backcountry, including the river corridor. "I've primarily made my living at the Grand Canyon and I felt it was time to return to the homeland. I'm excited about being in the parks and sharing the raw, primitive and expansive nature of our amazing landscape."
For more information about the program, the artist and scheduled visits to the parks, please visit
http://www.nps.gov/arch/photosmultimedia/2014artist
. Inquires may be directed to Sharon Brussell at 435-719-2142 or emailed to Sharon_Brussell@nps.gov. 
Chad Niehaus, the Community Artist in the Parks Liaison, may also be contacted for program information at 435-259-9314 or via email at Chad@waterpocketpress.com. 
Did You Know?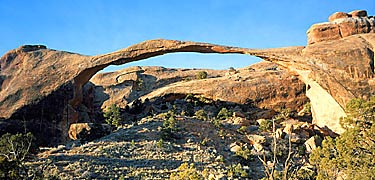 Landscape Arch is the longest arch in Arches National Park, measuring 306 feet from base to base. In 1991, a massive slab of rock fell from its underside, resulting in an even thinner ribbon of rock.