Safety in Bear Country

Black bears have been seen near Devils Garden Campground. Don't lure or feed them. Dispose of trash in designated receptacles; don't leave it in bags or other soft containers. Store food in vehicles or hard containers when not being prepared or consumed. More »
Transportation Planning
As part of its long term transportation planning effort, the park intends to manage traffic congestion by reducing the number of automobiles within the park while maintaining and improving public access. This action is supported by the park's Transportation Implementation Plan and Environmental Assessment (2006), and Executive Order 13514 on Federal Leadership In Environmental, Energy, and Economic Performance (2009), which requires agencies to measure, manage, and reduce greenhouse gas emissions toward agency-defined targets including a 30% reduction in vehicle fleet petroleum use by 2020.
Since 2004 to 2012, park visitation increased from 733,131 to 1,070,577, with more than a 35% increase in park visitors over 5 years. From 2004-2009 there was an increase of 100,000 cars annually, 36% more cars than documented in the 2006 Transportation Study. Arches also averages around 2,000 commercial bus tours a year with the busiest seasons from May through October. With this increase of visitation the park has seen an increase of parking issues that are no longer associated with holidays or weekends or other special occasions. Parking congestion is now the norm from mid-March through early November.
Did You Know?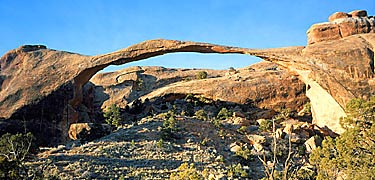 Landscape Arch is the longest arch in Arches National Park, measuring 306 feet from base to base. In 1991, a massive slab of rock fell from its underside, resulting in an even thinner ribbon of rock.