Winter Conditions

The Delicate Arch Viewpoint Road is closed. All other roads and trails remain open, but many trails are snowy, icy, and dangerous. Please inquire at the visitor center for the most up-to-date conditions.
Construction Update - 11/25/2013

Construction work continues at the Devils Garden parking lot, limiting parking and causing occasional delays. Visitors can avoid the area by turning around at Sand Dune Arch. More »
Kanab Prairie-clover
Dalea flavescens var. flavescens
Family: Fabaceae (A Utah Flora – Leguminosae) – Pea Family
Perennial herbs; stems 8" to 1.7' (20 to 52 cm) tall
Leaves: alternate; compound; leaves 0.6" to 1.9" (1.5 to 4.7 cm) long; 3 to 7 leaflets, 0.2" to 0.8" (5 to 20 mm) long, 0.04" to 0.4" (1 to 9 mm) wide; folded or flat; has hairs
Flowers: 5 tiny white petals (a banner, 2 wings and 2 keels), petals are 0.25" to 0.44" (6.2 to 11 mm) long; sepals are 5 lobed and 10 ribbed; 5 stamens; flowers densely clustered at the top of the stalks
Pollinators: other genera in this family are pollinated by insects (specifically bees, moths and butterflies)
Fruits: legume pod
Blooms in Arches National Park: May, June, July
Habitat in Arches National Park: grasslands, desert shrub and pinyon-juniper communities, commonly in sandy soils
Location seen: park road mile 4, park road at Petrified Dunes, park road mile 13 and Devils Garden campground
Other: The genus name, "Dalea", honors Samuel Dale (1659-1739), an English physician, botanist and gardener who was the author of several botanical works and a treatise on medicinal plants. The species name, "flavescens", means "becoming yellow, yellowish".
This plant is endemic to Emery, Garfield, Grand, Kane, San Juan, Sevier and Wayne Counties in Utah and adjacent areas in Arizona.
This family is ranked second to grasses in importance to people because species can fix nitrogen. However, some species, e.g., locoweeds and milkvetches, are poisonous due to selenium abstracted from the soil.
Did You Know?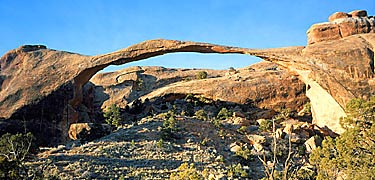 Landscape Arch is the longest arch in Arches National Park, measuring 306 feet from base to base. In 1991, a massive slab of rock fell from its underside, resulting in an even thinner ribbon of rock.