Winter Conditions

The Delicate Arch Viewpoint Road is closed. All other roads and trails remain open, but many trails are snowy, icy, and dangerous. Please inquire at the visitor center for the most up-to-date conditions.
Construction Update - 11/25/2013

Construction work continues at the Devils Garden parking lot, limiting parking and causing occasional delays. Visitors can avoid the area by turning around at Sand Dune Arch. More »
Rose-heath (Baby White)
Chaetopappa ericoides
Family: Asteraceae (A Utah Flora – Compositae) – Sunflower Family
Perennial herbs; 1.2" to 6.8" (3 to 17 cm) tall
Leaves: alternate; simple; entire; 0.08" to 0.4" (2 to 10 mm) long, 0.04" to 0.12" (1 to 3 mm) wide
Flowers: 12 to 25 white to pink ray flowers, 0.12" to 0.24" (3 to 6 mm) long, pistillate; yellow 12 to 25 disk flowers, perfect, fertile, 0.18" to 0.24" (4.5 to 6 mm) long; flower head appears to be a single flower, but is composed of several flowers (a composite).
Pollinators: other genera in this family are pollinated by insects
Fruits: achene – 1 seeded with hard shell
Blooms in Arches National Park: April, May, June
Habitat in Arches National Park: desert shrub and pinyon-juniper communities
Location seen: park road near Petrified Dunes, park road mile 7.6, Delicate Arch road, park road near Skyline arch
Other: The genus name, "Chaetopappa", is possibly from the Greek for "chaet" meaning "loose, flowing hair" and "pappos" meaning "pappus" (a modified calyx with downy bristles or hairs). The species name, "ericoides", means "heath-like" referring to the small size and the leaf pattern of the plant.
This family is the most advanced and complex of the dicots. The family is rich in oils and resins and is found in every part of the world, but is infrequent in the tropical rainforest. Aquatic or semi-aquatic species are also uncommon.
Did You Know?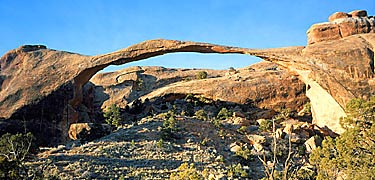 Landscape Arch is the longest arch in Arches National Park, measuring 306 feet from base to base. In 1991, a massive slab of rock fell from its underside, resulting in an even thinner ribbon of rock.