Ever wonder who masterminds our social media messages? Meet the people behind the initials.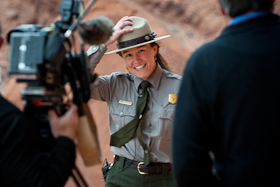 Though she spends a fair amount of time both in front of and behind a camera lens, Karen (kh) feels most at home when engaged in conversations with visitors. "Whether it happens on a trail, in the visitor center, or on our Facebook wall, each dialogue is an opportunity to learn more about why national parks are important to people. Plus, it's a ton of fun." If you have the opportunity to chat with Karen during a visit to Arches, make sure to allow ample room. "I don't know how to talk without gesturing, and my descriptions can get pretty animated. I once accidentally whacked a coworker who was standing too close." Perhaps an online forum is safer.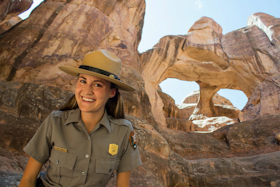 When Kait (kt) was 12 years old, she visited Arches for the first time and discovered that rocks make great companions. "They're great listeners, they never talk back, and they do an excellent job keeping the secrets of Earth's past." Her love for all things geologic grew as she got older, and she never forgot the whimsical swoops, towering spires, and Swiss-cheese holes of southern Utah. When she started working at Arches, she felt like she was rejoining long-lost friends. Now that she's realized visitors make for even better conversation, she delights in giving guided walks and snapping photos for Facebook. Just don't be surprised if you see her whispering to a piece of Entrada sandstone: it's totally normal.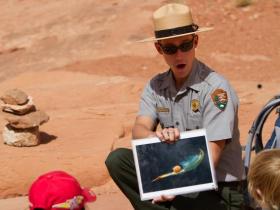 NPS photo by Andrew Kuhn
Born and raised in the land of gigantic metal arches (St. Louis, Missouri), it's no surprise that
Michael
(mm)
feels right at home in the land of gigantic stone ones. As an artist, Michael finds inspiration in the colors, textures, and rhythms of this ever-changing landscape, and loves nothing more than sharing them with visitors from all over the world. "This awesome place is a masterpiece in the great gallery of our National Parks." If you meet him on a Fiery Furnace hike, in the visitor center, or exploring trails on his off-time, you will find Michael just as mesmerized by the park's sculptures as by any great work of art. And he'll pick stone arches over metal ones any day. (Just don't tell his friends back home.)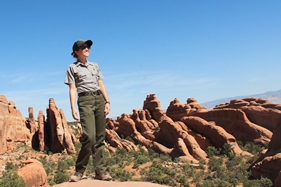 While birds were her initial passion, through the lens of a camera,
Leigh (ll)
discovered that there is beauty and wonder in every aspect of the outdoors: the more you look, the more you find! She's happiest when out on the trail trying to puzzle out a new wildflower she's never seen before or deciphering the warbling call of a bird emanating unseen from the desert scrub. She loves to help identify plants and animals both on the trail and on screen as visitors share their own discoveries from their time in the park. Leigh is thrilled to be back at Arches after two years in Glacier National Park, as this was where she first found her home with the National Park Service as a Student Conservation Association intern.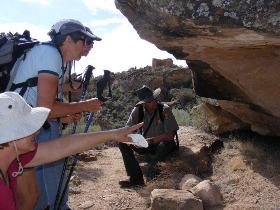 Hailing from the mountains of Appalachia in Tennessee, Glenn (gr) grew up steeped in traditional culture. He was spellbound by storytellers from an early age and vowed to learn how to weave his own magic in the oral tradition. Around the campfires of Grand Canyon, Olympic, Carlsbad Caverns, Great Smoky Mountains, Petrified Forest, and more, his ranger talks and guided walks became seasoned with tall-tales, sucker-punch jokes, and good old-fashioned yarns. Here at Arches, Glenn fuses tradition with technology through photographs that tell their own darn good stories.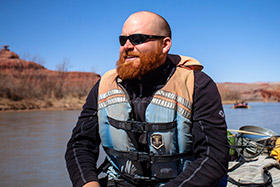 After his 2010 season in Glacier, Jake (jwf) and a coworker took a 25 day road trip through the Colorado plateau and surrounding areas for the first time. On that trip, his camera broke and he was unable to photograph his travels to the parks. He promised to return one day, and after living and working in Grand Teton, Glacier, Carlsbad Caverns, and Denali National Parks, he has kept that promise. He volunteers his time with the National Park Service when he isn't busy working full-time for AmeriCorps VISTA. He enjoys exploring the red rock country in search of beautiful views, wildlife, wildflowers, and the remnants of past cultures.
A healthy dose of Looney Tunes during childhood might have predisposed Neal (nh) to a life in the desert southwest. His first visit to Canyonlands in 1994 felt more like coming home, even when the wind blew his borrowed field camera off a cliff. For many years, Neal was the park's Visual Information Specialist, which means he wrote, designed and photographed for all four National Park Service sites in southeast Utah. Neal now works at Yellowstone National Park. Since he founded this social media program, he will always be an honorary member of our team.
And he will always weight his tripods.