Extreme Fire Danger

Due to extremely dry conditions, fire restrictions are in effect in all national park units in Southeast Utah. More »
Places
Wolfe Ranch
This one-room cabin housed a family of six, eking out a life in this rocky desert.
Courthouse Wash Panel
Layers of stories are visible on this rock wall near the Colorado River.
Did You Know?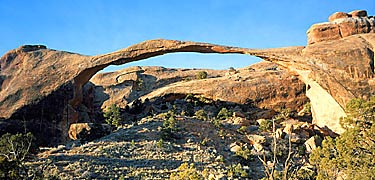 Landscape Arch is the longest arch in Arches National Park, measuring 306 feet from base to base. In 1991, a massive slab of rock fell from its underside, resulting in an even thinner ribbon of rock.