Delicate Arch Viewpoint Inaccessible

Wolfe Ranch and the hiking trail to Delicate Arch are open, but flood waters and mud have blocked the road to Delicate Arch Viewpoint.
Safety in Bear Country

Black bears have been seen near Devils Garden Campground. Don't lure or feed them. Dispose of trash in designated receptacles; don't leave it in bags or other soft containers. Store food in vehicles or hard containers when not being prepared or consumed. More »
Arches CCC Photos
While watching Ken Burns' documentary about the National Park Service, America's Best Idea, Shelia Bumgarner was struck by an idea of her own: "I wonder if Arches National Park would be interested in Daddy's old photos?"
Shelia's father, Dorris "Doc" Bumgarner, was stationed at the Arches CCC camp from 1939 to 1941. He captured dozens of moments of camp life on grainy, black and white film: raising the flag, building a bridge, and just plain ol' goofing around. Shelia generously donated scans of the photos, as well as some original prints, for the park to share with researchers and visitors. Enjoy this glimpse into Arches' past.
Did You Know?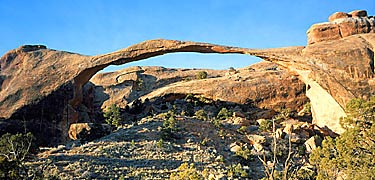 Landscape Arch is the longest arch in Arches National Park, measuring 306 feet from base to base. In 1991, a massive slab of rock fell from its underside, resulting in an even thinner ribbon of rock.