Delicate Arch Viewpoint Inaccessible

Wolfe Ranch and the hiking trail to Delicate Arch are open, but flood waters and mud have blocked the road to Delicate Arch Viewpoint.
Safety in Bear Country

Black bears have been seen near Devils Garden Campground. Don't lure or feed them. Dispose of trash in designated receptacles; don't leave it in bags or other soft containers. Store food in vehicles or hard containers when not being prepared or consumed. More »
Arches: Windows of Learning
Unique desert plants, wily lizards and ravens, and sandstone sculptures that ignite the imagination... Arches will inspire your students, even from afar.
Find lesson plans to bring Arches into your classroom, plan a field trip for your students to the park, or check out educational loan materials you can borrow during a visit.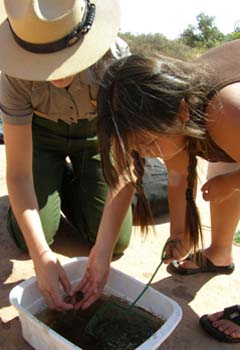 Features
Steal these ideas

Downloadable lesson plans offer step-by-step guidance for putting nature in your students' hands.

Read More

C.C.O.E.

Canyon Country Outdoor Education connects K-6 students from Grand and San Juan counties with the national parks in their backyards.

Read More

Tools for your trip

Ready-made field trip kits help direct your group's learning experiences in the park. Reserve yours today.

Read More