Camping Permits, Fees, and Reservations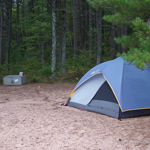 Permits to reserve individual and group campsites can be arranged in advance, and should be obtained prior to departure for the islands. Each permit is good for up to 14 consecutive nights of camping. Camping permits are nontransferable. Campsites will be assigned when a reservation is made. Individual campsites, which accommodate one to seven people, can be reserved beginning 30 days before the start of a trip. A fee of $10/site/night will be charged. This fee must be paid (by credit card, check or cash) when the reservation is made.
A party of eight to twenty people is considered a group. All groups must use designated group campsites. The park accepts group camping permit reservations beginning in January for that year. Please contact the park or check the park website for details on how to reserve group campsites. A fee of $20/site/night must be paid (by credit card, check, or cash) when the reservation is made.
Reservations can be made according to the guidelines above from 8 a.m. to 4:30 p.m. Central Time daily from Memorial Day through September; and Monday through Friday from October to Memorial Day.
To make reservations or for more information call (715) 779-3397, select option 1.
The name appearing on the permit is the individual that will be held legally responsible should anyone in the party fail to comply with the conditions of the permit. Legal responsibility also applies to any group, organization or commercial entity that registers under the name of a single individual.
Permits must be picked up in person at the lakeshore's headquarters visitor center located at 415 Washington Avenue in Bayfield, Wisconsin. Any permit unclaimed at 4:30 pm on the first day of its itinerary will be cancelled unless the camper calls that day to inform staff of a late arrival.

Refunds and Itinerary Changes

Partial refunds may be issued for cancellations of an entire trip made at least one day before the start of a trip. Refunds are only available for fees paid with an approved credit card. The cost of the first two days of any trip is considered a nonrefundable administrative cost for processing the permit. Refunds will be issued for fees paid by credit card to cover nights 3-14 of a trip. No refunds will be issued after the start of a trip. No refunds will be issued for partial cancellations.
If itinerary changes are necessary either before a trip begins or once a camping trip is underway, please contact park staff by calling (715)779-3397 or in person whenever possible. Present your camping permit to park staff when making these itinerary changes. There will be no charge for changes due to severe weather conditions. Campers choosing to make itinerary changes for other reasons will be charged $10/night ($20/night for group campsites) for each nightly change.
Campers planning to use the Apostle Islands Cruise Service Camper Shuttle to reach Oak Island or Stockton Island can obtain a full refund of their camping fees if the shuttle is cancelled.