Early explorers were amazed by the rich fish population of the world's greatest lake. Years of heavy fishing pressure took a toll on fish populations, but the most severe blow came with the arrival of the sea lamprey. By the 1950's this parasitic species had devastated much of the native fish population.
Intense efforts by both U.S. and Canadian governments have succeeded in minimizing the havoc currently wrought by the sea lamprey, and some fish populations have rebounded. The restoration of the lake trout population is perhaps the biggest success story: this species, once on the verge of disappearance, once again maintains a viable population in the cold, clear waters of Gitche Gummee.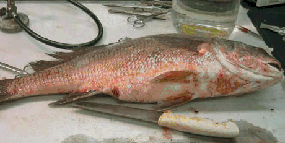 Emergency Prevention and Response Plan for Viral Hemorrhagic Septicemia (VHS) for the Four Lake Superior National Parks and the Grand Portage Indian Reservation. Click for more information...
Emergency Restrictions to Prevent Spread of VHS at Apostle Islands National Lakeshore
Map of Lake Superior Waters Administered by Apostle Islands National Lakeshore