Our Progress: Best Management Practices & Accomplishments
Goals and objectives are the engine that drives the Integrated Environmental Plan (IEP) forward on a year-by-year basis. They are focused upon identified significant impacts, thus allowing park staff to focus their resources on what is most important during any given annual cycle. Over a longer term, goals and objectives are related to our future visions in that they demonstrate whether progress over time is on a trajectory to attain the associated future vision.

Apostle Islands National Lakeshore commits to all reasonable efforts to implement sustainable practices in planning, operations, management decisions, and policy development, consistent with the policy framework contained within the parks Environmental Commitment Statement. These commitments are realized each year through the setting and achievement of goals, objectives, and targets as part of the environmental planning process guided by its IEP.

Our General Goals To Improve Sustainability:

Increase fleet efficiency - Use automobiles and boats that consume less fuel or use cleaner and renewable energy sources
Increase building efficiency - Reduce energy and water consumption, investigate and integrate energy efficient technologies into new buildings or retrofit projects.
Improved fuel management - Reduce fuel consumption overall and manage fuel use more conservatively (through consolidated trips and other strategies)
Track and reduce greenhouse gas emissions, the main contributor to climate change
A Sample Of Some Of Our Projects And Achievements To Improve Sustainability: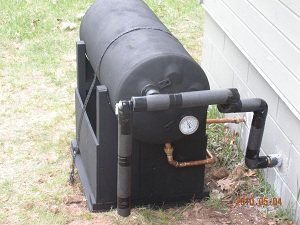 NPS Photo
Park staff tested the use of a solar pre-heated water unit on Oak Island. A recycled hot water heater tank was re-purposed, and coated with black paint and a small amount of sand. Water out of the ground at this site is 52 degrees. The new solar tank raises that temperature up to 18 degrees on cloudy, cool, and rainy days and up to 66 degrees on warm sunny days! This reduces use of fossil fuels and the potential for a hazardous materials spill while transporting fuel over Lake Superior.


We are now using hybrid vehicle models of the Toyota Prius and Ford Escape;we have replaced our 2-stroke engine ATVs and Snowmobiles with low emission 4-stoke engine models.



Replaced florescent light bulbs with LED bulbs in over 75% of Park owned buildings. LED bulbs are more energy efficient, longer lasting and environmentally friendly.



Developed a boat transportation spreadsheet that allows trips and tasks to be strategically scheduled by staff. This helps us reduce mileage, fuel costs, wear and tear, and greenhouse gas emissions.
Established a "Take Me To" rack where park staff can stage equipment to be delivered to other park locations. All boat operators check the "Take Me To" rack, to help the Park combine or eliminate trips. This saves time and transportation costs, while increasing efficiency.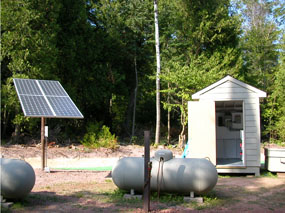 NPS Photo
The use of ten photovoltaic (solar) electrical systems to operate island water systems and provide power to island ranger stations and staff quarters. These systems provide a cost effective means of supplying clean renewable power for items such as water pumps, septic system mound pumps, refrigerators, fans, lighting, cell phone recharging and two-way radios.

Received a Certificate of Recognition from the Environmental Protection Agency for our efforts at transitioning existing computers, monitors and uninterruptible power supplies to new "Green" models, which provide increased energy efficiency and cost savings while minimizing environmental impacts.

There are many other examples of changes we are making to reduce greenhouse gas emissions, minimize environmental impacts and increase sustainability of park operations. The use of the Integrated Environmental Plan, along with our participation in the
Climate Friendly Parks Program
, serves as a blueprint to achievable and effective actions. We hope our actions will set an example and encourage visitors to reduce their own energy use both here and upon return to their homes, workplaces and communities.
Back to IEP Index