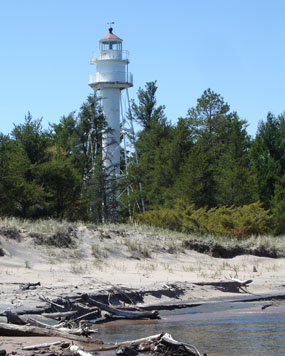 Over the years, the focus of shipping in the area shifted from venerable LaPointe to the bustling industrial port of Ashland. To accomodate this change, authorities installed a steam-powered fog signal and replaced the old lighthouse with two newer towers, spaced nearly a mile apart.
The fog signal came first, built in 1891, several thousand feet east of the original light. In 1897, it was joined by the "New" LaPointe light, a 67-foot cylindrical tower constructed alongside. The old lighthouse had its lantern room removed, and continued to serve as housing for keepers and their families until it was finally abandoned in 1940, replaced by a triplex apartment block. Only ruins remain today, hidden in thick vegetation.
The Chequamegon Point light, a 42-foot tower at the western tip of the island, was also erected in 1897. The LaPointe keeper had to operate both lights. Fortunately for the weary keepers, the Lighthouse Service eventually built a concrete sidewalk connecting the two towers, eliminating the need for a tiring walk through loose sand.