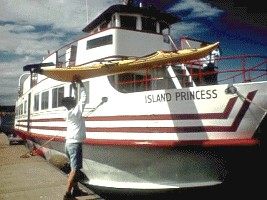 NPS Concession Operated Tours and Trips

Up to 140 passengers
Narrated Sightseeing Tours, Island Shuttles and Charter Boat Trips
Apostle Islands Cruise Service (AICS) is authorized by the National Park Service and U.S. Department of the Interior as a park concessioner to serve the public within the Apostle Islands National Lakeshore.
AICS offers a variety of narrated sightseeing cruises, island shuttles, and charter trips to islands and offshore locations throughout the national lakeshore. The most popular is the 55-mile "Grand Tour" which travels through the heart of the Apostle Islands archipelago.
Daily shuttles provide visitors with boat transportation services to specific islands, where you can visit a lighthouse, hike, picnic, bird-watch, or explore natural and cultural areas on your own.
Other cruises are available in the afternoon and evening with the opportunity to see sunsets, sea caves, and lighthouses. For a complete schedule of this year's cruise offerings, visit their website at www.apostleisland.com.
Apostle Islands Cruise Service (Authorized NPS Concessioner)P.O. Box 691
Bayfield, WI 54814
Phone: (715) 779-3925
E-mail: info@apostleisland.com
Website: http://www.apostleisland.com/

Visitor Trips, Tours, and Expedition Services

Business partners of the National Park Service provide a variety of ways to see and enjoy the Apostle Islands National Lakeshore. They offer opportunities to learn, explore, and experience the park through unique and specialized trips, tours, adventures and expeditions.

Includes:
- Adventure Tours and Water Taxi Service
- Canoe and Kayak Expeditions
- Charter Fishing Services
- Sailboat Charters
- Scuba and Diving Services
- Towing and Salvage Services (marine)
- University Recreation and Education
- Youth Camps
CUA is defined as Commercial Use Authorization (business permit). A CUA is required of all businesses, groups, organizations or individuals that provide guided trips and/or services for hire, compensation or reimbursement within the national lakeshore. It is the obligation of the person, business or organization providing guided services to contact the Commercial Services Manager at 715-779-3397, extension 201, or APIS_Commercial_Services@nps.gov to obtain application materials for this permit. If you are uncertain of your status, call for clarification.

Download the Commercial Use Authorization (CUA) Request for Application Form:
CUA/SUP Questions & Answers (28 kb pdf)

APIS 88a permit request (42 kb pdf)

Attachment A - Provisions (68 kb pdf)
Attachment C - Day-Use Canoe/Kayak trip itinerary (54 kb .doc)
Attachment D - Operations Plan (97 kb .doc)

Attachment E - Vehicle Registration Form (85 kb pdf)

Checklist (60 kb pdf)

Complaint Notice (example) (23 kb .doc)

Figure 1 - Certificate of Liability Insurance (example)(42kb pdf)
Attachment B - Adventure Tours-Water Taxi (64 kb pdf)
Attachment B - Backcountry (71 kb pdf)
Attachment B -Canoe/Kayak (64 kb pdf)
Attachment B -Fishing (50 kb pdf)
Attachment B - Marine Towing/ Salvage (64 kb pdf)
Attachment B - Sailing (65 kb pdf)
Attachment B - SCUBA (57 kb pdf)


Philanthropy, Friends Groups, and Authorized Fundraising Partners

Private philanthropy is both a noble tradition of the national parks and a vital element of the Service's success. Donations come to the park from individuals, organizations, foundations, corporations, businesses, and other entities, purely as expressions of support, in response to the donor's awareness of needs, or as a result of an organized fundraising campaign by others. The NPS appreciates the generosity of those who donate directly, and those who work through authorized non-profit organizations to raise funds for the benefit of the Apostle Islands National Lakeshore or its programs.
To assure the ethics,integrity, and impartiality of the National Park Service and its programs, all donations accepted by the park must strictly follow federal law and NPS policy. Any fundraising campaigns on behalf of the park must be authorized in a written agreement. For more information on that policy and how donations will be acknowledged at the Apostle Islands, please see our Donor Recognition Plan.

The park's current authorized non-profit fundraising partners are:
- Friends of the Apostle Islands