Things To Know Before You Come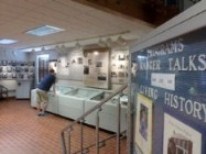 Visiting Appomattox Court House National Historical Park is largely a self-guiding experience. For this reason it is recommended that you begin your tour at the visitor center and get a map of the park. The visitor center is in the reconstructed courthouse building. As not all of the park is accessible, please refer to the accessibility page for more information. Depending on the season however, there may be a number of programs offered to help you get more out of your visit. Here are some points to consider when planning your visit.
** Please note that beginning Jan. 2, 2016, the park will open at 9:00 a.m. instead of 8:30 a.m.
Programs/Services available year round:
Museum in the visitor center
Bookstore/gift shop in the Tavern Kitchen
Two different 15-minute slide shows in the visitor center, one on the hour, the other on the half-hour
The Junior Ranger Program is designed to help kids (ages 6-13) have a meaningful interaction with our nation's history. Kids can get a workbook to complete as they tour the park. Once completed, they earn a certificate and a Jr. Ranger badge.
Programs/Services available during the summer:
Living History talks are presented, often at :50 minutes after the hour. These programs are presented by actors who portray people who were here in 1865, and who speak as though it is still 1865.
Ranger Programs are also offered to help answer the question, "Why Appomattox?" These often last about 30-minutes and begin in the visitor center.
Please check the Calendar of Events for special programs that be offered.