Beginning Oct. 28, 2013, the McLean House front porch will be closed, (house to remain open).

The front porch of the McLean House is being renovated requiring entry into the house to through the back door beginning Oct. 28.
Living History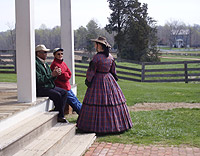 NPS photo
Living History programs are a favorite for many visitors to Appomattox Court House NHP. These programs are offered every day from Memorial Day through Labor Day weekend. Actors/historians/interpreters portray people who were actually in Appomattox Court House in 1865. You may meet a man who lives nearby but served in Lee's army and was paroled "this April past." You may also meet a Federal soldier from the 188th Pennsylvania Infantry who has been assigned to Appomattox as a provost guard (military police). All Living History characters wear authentic period clothing and converse in the manner of their day.
There is typically at least one presenter Monday -Thursday, and often two on Fridays, Saturdays and Sundays, giving presentations that begin in the visitor center at :50 past the hour (9:50 am - 2:50 pm); but each actor stays in character all day. Presentations are lively and entertaining and questions from visitors are encouraged. Just remember, when you speak to these historical figures, it's the same month and day for them as it is for you, but the year is 1865!
Did You Know?
Colonel Charles Marshall, Lee's aide-de-camp, was the great-nephew of Chief Justice John Marshall. Charles Marshall chose the site of the surrender meeting and was the only Confederate present in the McLean House besides General Lee.