Temporary McLean House Closure

Beginning Sept. 3 the Parlor of the McLean House will only be visible through the window on the front porch while the floor cloth (covering) in the main hall is restored. The house will reopen Monday, Sept. 8. We are sorry for this inconvenience.
GPS Directions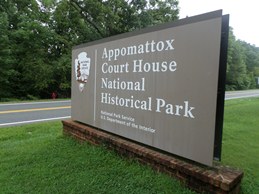 We strongly advise those using GPS to also use a map and be aware of the signs leading to the Park. Sometimes it can be difficult to find the Park using a GPS. It can be easy to miss the main entrance and drive into the historic village. We advise people to begin their visit at the main entrance, National Park Drive.


GPS users should use the following address:
111 National Park Dr.
Appomatox, Va 24556

Did You Know?

After the war there was talk of putting Lee on trial for treason. Grant wrote, "I will resign the command of the army rather than execute any order to arrest Lee." That settled the matter, and Lee was never tried.