Fees & Reservations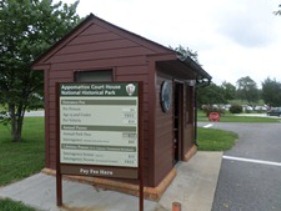 Winter Fees: $3 per person with a $5 maximum per private passenger vehicle
Summer Fees: $4 per person with a $10 maximum per private passenger vehicle
Commercial Bus Tours: must be scheduled in advance, and have the option of paying the individual seasonal rate, or a $100/bus, whichever is less
All valid National Park Passes are accepted
The entrance fee is on a seasonal schedule based on services offered. From
Memorial Day weekend until Labor Day
the park offers a full schedule of daily programs, including Living History, Ranger Talks, and Audio-Visual programs and charges
$4 per person with a $10 maximum per private passenger vehicle
. There is no charge for ages 15 and younger. During the off season only Audio-Visual programs, McLean House Tours, and self guided walks are available. Fees during the
off season are: $3 per person with a $5 maximum per private
passenger vehicle.
The Interagency Passes (National Parks and Federal Recreational Lands Pass Program) are honored. This includes the Annual ($80), Senior ($10), Access, Volunteer, and park specific (Appomattox Court House NHP) annual pass ($15). Vehicles are restricted to the parking area and paved roads. Pets must be on a leash. Picnicking is permitted in designated areas only.
Permits/Commercial activities on Park grounds are by permit only. Permit questions should be directed to the Office of the Superintendent at: 434-352-8987 x 227 - email us

For Group Reservations and Educational Resources contact: Ranger Brandon Chamberlain: 434-352-8987 x 231 or Brandon Chamberlain

Make reservations by using the "Appomattox Group Reservation Form."

Mail may be addressed to:
Appomattox Court House NHP
Attn: Ranger Chamberlain
P.O. Box 218
Appomattox, VA 24522