Appomattox Podcast Tour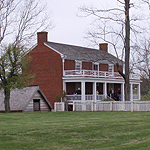 NPS
The Appomattox Podcast is a five-mile walking tour narrated by Appomattox Court House NHP historian, Patrick Schroeder. Note: the website you will linking to may take several minutes to load.
If you are new to Podcasting, there is instructional information on the Civil War Traveler website under "Multimedia."
Did You Know?
In the last battle at Appomattox Court House, fought literally hours before Lee and Grant met for the surrender, nearly 700 men became casualties: killed, wounded, or captured.