Appomattox Podcast Tour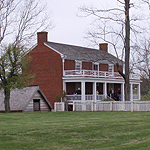 NPS
The Appomattox Podcast is a five-mile walking tour narrated by Appomattox Court House NHP historian, Patrick Schroeder. Note: the website you will linking to may take several minutes to load.
If you are new to Podcasting, there is instructional information on the Civil War Traveler website under "Multimedia."
Did You Know?

After the war there was talk of putting Lee on trial for treason. Grant wrote, "I will resign the command of the army rather than execute any order to arrest Lee." That settled the matter, and Lee was never tried.