The McLean House front porch is closed, but the house remains open.

The front porch of the McLean House is being renovated requiring entry into the house through the back door.
Appomattox Podcast Tour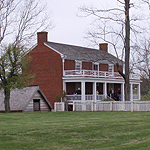 NPS
The Appomattox Podcast is a five-mile walking tour narrated by Appomattox Court House NHP historian, Patrick Schroeder. Note: the website you will linking to may take several minutes to load.
If you are new to Podcasting, there is instructional information on the Civil War Traveler website under "Multimedia."
Did You Know?

Major James Field, of A.P. Hill's staff, surrendered at Appomattox. Field served in the Mexican War, helped to write the 1st Constitution for the State of California and ran for Vice President of the United States in 1892. (Field's Confederate frock coat is at Appomattox Court House NHP)