The McLean House front porch is closed, but the house remains open.

The front porch of the McLean House is being renovated requiring entry into the house through the back door.
Appomattox Podcast Tour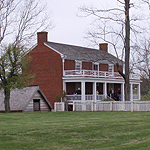 NPS
The Appomattox Podcast is a five-mile walking tour narrated by Appomattox Court House NHP historian, Patrick Schroeder. Note: the website you will linking to may take several minutes to load.
If you are new to Podcasting, there is instructional information on the Civil War Traveler website under "Multimedia."
Did You Know?

Lee and Grant met again only once after leaving Appomattox, when Grant was in the White House. President Grant invited him to visit and Lee did so in 1869.