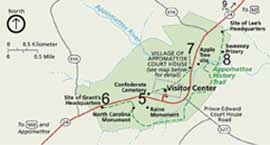 5. Confederate Cemetery - This area has its own parking lot. Once parked, hear how this little town, like so many others throughout the war, dealt with the aftermath of battle. Particularly, find out who some of the people were that cared for the corpses of soldiers that perished just hours before the surrender.
6. Coleman House and the 14th VA Calvary - Park at the Grant's Headquarters parking lot and hear about some of the more tragic events that took place in Appomattox Court House on April 9, 1865.
7, Sweeney Cabin - Turn left out of the park's main entrance, cross the Appomattox River and park in the gravel parking area on the left. Once parked, learn who the Sweeney brothers were. Though not known for their Civil War connections, they were Appomattox Court House natives who forever changed American music.

8. Sweeney Prizery - To get to this building (the oldest in the park), park in the Lee's Headquarters parking lot and walk a small portion of the History Trail. Find out what a prizery is and learn why it was so important to the economy of Appomattox in the 1800s.
9. Confederate Rear Guard - Three miles northeast of the main entrance of the park, along Highway 24, is the location of the Confederate rear guard; also known as the "New Hope Church trenches." At this location the Army of Northern Virginia dug a small trench to protect themselves against Gen. Meade's Army of the Potomac, who were nipping at Confederate heels on the last day of the campaign.