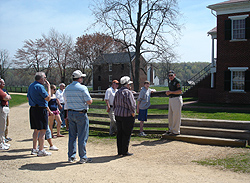 NPS Photo
The 150th Anniversary at Appomattox Court House NHP
If you may be interested in volunteering for the 150th Anniversary event, April 8-12, 2015, please consider filling out this application. If you have specific questions about volunteering please email us. After you fill out the application either email to us or send it to the address shown on the form. The deadline for applying is March 1, 2015. Thank You!

You can also volunteer in the park beyond the 150th commemoration. This award winning Volunteers-In-Parks (VIP) program (volunteer Sue Cochrane was the winner of a 2012 George and Helen Hartzog Award for Outstanding Volunteer Service for the Northeast Region) continues to develop. With over 20 part-time volunteers, which does not include the Boy/Girl Scout History Trail program, interns, living history groups and short term out-of-state VIPs, the park accumulated 10,800 volunteer hours in 2014 (fiscal year).
Volunteer and internship positions are available in every division. Group and special projects, including potential Eagle Scout projects are also available. With your help we can make Appomattox Court House NHP better than ever. For a better understanding about the entire National Park Service and its volunteer and internship programs please visit http://www.nps.gov/volunteer/.

Appomattox Court House NHP is located three miles outside the town of Appomattox. Click here for printable "take along directions." To learn more about the area, activities and entertainment close to the park view these websites.
National Parks Units in Virginia
For more information about volunteering at Appomattox Court House NHP contact:

Alyssa Holland
1-434-352-8987 ex. 234 e-mail us.
Volunteers are one of the parks more important commodities. Here are a collection of photographs from activities theses volunteers have participated in over the years at Appomattox Court House NHP. If anyone has old pictures for this webpage or has an interest in volunteering at any of our events please contact the Volunteer Coordinator.

Current Volunteer Opportunities