Black Soldiers on the Appomattox Campaign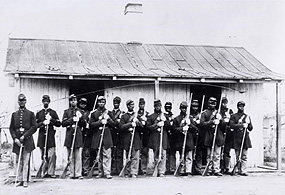 NA image
Serving the Union:
On August 25, 1862, Secretary of War Edwin Stanton authorized the enlistment of black troops into the Federal Army. Although enlistments began in 1862, it was not until 1864 that recruitment of blacks gathered momentum. Eventually, 178,982 men served in 166 regiments in the Union Army. These regiments, designated United States Colored Troops (U.S.C.T.), saw service throughout the South; however, the largest number in any one theater fought in the campaigns against the Army of Northern Virginia.
U.S. Colored Troops in the Retreat to Appomattox: The union armies under Lt. General Ulysses S. Grant would sever Confederate General Robert E. Lee's supply line to Petersburg on April 2, 1865. Lee would be forced to evacuate the Confederate Capital of Richmond and the fortified supply center of Petersburg thus beginning his final campaign of the war. While most of the United States Colored Troops in the Federal Army were involved with the occupation of Richmond on the morning of April 3rd, some did enter Petersburg when it fell on the same day. Brigadier General William Birney's second division, XXV Corps, operating south of the Appomattox River, would be among the first units to come into the city from the west. It was noted that the 7th U.S.C.T. regiment, recruited in Maryland, and the 8th U.S.C.T., from Philadelphia, were on the skirmish line that morning and with those who marched into the evacuated railroad center. The 7th's commander, Lt. Colonel Oscar E. Pratt, wrote, "I entered the city of Petersburg at 6 a.m., amidst the joyous acclamations of its sable citizens." There were seven black units (approximately 2,000 men, or 3% of the Federal force) which made the journey all the way to Appomattox Court House with Major General Edward Ord's Union Army of the James and arrived in time to be involved in the final fighting.
On their way they passed through the settlements Nottoway Court House, Burkeville Junction, Rice's Station, and Farmville after they stayed south of the Appomattox River and traveled via Walker's Church (present day Hixburg) to Appomattox. These regiments were of Colonel William W. Woodward's brigade, the 29th and 31st U.S.C.T., along with the 116th U.S.C.T., assigned to them from another brigade. Colonel Ulysses Doubleday's brigade, 8th, 41st, 45th, and 127th U.S.C.T., were also present. The first brigade, under Colonel James Shaw, Jr., would not arrive until the day after the surrender, having marched ninety-six miles in four days. His brigade was detached from the others and sent back to Sutherland Station for a period of time, causing their delay.
On the morning of the 9th at Appomattox Court House, the black units were sent forward to support other Federal units in the closing phase of the battle. Consequently, only Woodward's brigade participated in the final advance on the Confederate line. Some of Doubleday's skirmishers did proceed forward, and the only casualty for the U.S.C.T. brigades was Captain John W. Falconer of Company A, 41st U.S.C.T. - a white officer. He was mortally wounded and died on April 23rd. According to Surgeon-in-Chief Charles P. Heinchhold, "during the entire campaign, the U.S.C.T.'s lost 4 men killed, 1 officer (mortally) and 30 men wounded, a total of 35 casualties."
"We, the colored soldiers, have fairly won our rights by loyalty and bravery -- shall we obtain them? If we are refused now, we shall demand them." Sgt. Maj. William McCeslin; 29th U.S.C.T.
Serving the Confederacy:
With General Robert E. Lee's manpower reserves quickly draining, on March 23, 1865, General Orders #14 was issued which allowed for the enlistment of Blacks into the Confederate service. Shortly thereafter, a notice was posted in Petersburg's The Daily Express, "The commanding General deems the prompt organization of as large a force of negroes as can be spared, a measure of the utmost importance, and the support and co-operation of the citizens of Petersburg and the surrounding counties is requested by him for the prosecution to success of a scheme which he believes promises so great benefit to our cause...To the slaves is offered freedom and undisturbed residence at their old homes in the Confederacy after the war. Not the freedom of sufferance, but honorable and self won by the gallantry and devotion which grateful countrymen will never cease to reward."
The recruitment effort did bear fruit in Richmond where Majors James W. Pegram and Thomas P. Turner put together the "Negro Brigade" of Confederate States Colored Troops. The Richmond Daily Examiner noted of the unit, "the knowledge of the military art they already exhibit was something remarkable. They moved with evident pride and satisfaction to themselves."
As the Confederate army abandoned Richmond on April 3, 1865, apparently these Black Confederate soldiers went along with General Custis Lee's wagon train on its journey. They would move unmolested until they reached the area of Painesville on April 5 where they were attacked by General Henry Davies' cavalry troopers. A Confederate officer, who rode upon this situation as it was transpiring, recalled: "Several engineer officers were superintending the construction of a line of rude breastworks...Ten or twelve negroes were engaged in the task of pulling down a rail fence; as many more occupied in carrying the rails, one at a time, and several were busy throwing up the dirt...The [Blacks] thus employed all wore good gray uniforms and I was informed that they belonged to the only company of colored troops in the Confederate service, having been enlisted by Major Turner in Richmond. Their muskets were stacked, and it was evident that they regarded their present employment in no very favorable light."
On April 10th, as Confederate prisoners were being marched from Sailor's Creek and elsewhere to City Point (present day Hopewell) and eventually off to Northern prison camps, a Union chaplain observed the column. This incident along the retreat to Painesville, seems to be the only documented episode of "official" Black troops serving the Confederacy in Virginia as armed an unit under fire.
African-Americans also accompanied the Confederate army on the retreat with the First Regiment Engineer Troops and provided yeoman service. One member of this unit remembered that they mounded roads, repaired bridges and cut new roads parallel to old ones when roads became impassable. When this was not possible, an engineer officer would post a group near the trouble spot to extricate wagons and artillery pieces.
When Lee surrendered his army at Appomattox, thirty-six African-Americans were listed on the Confederate paroles. Most were either servants, free blacks, musicians, cooks, teamsters or blacksmiths. Few Black southerners served as combat troops in the Confederate Army, many served on other capacities.
Blacks paroled at Appomattox Court House include thirty-nine slaves and free blacks

Quartermaster's Department of the Third Corps Ordinance : 16 Slaves (unnamed) in public service
Eighteenth Georgia Battalion enlisted for the War: Joe Parkman Co. A; Henry Williams Co. B, George Waddell Co. A; Louis Gardeen Co. C-- all musicians.
James Polk Co. B, William Read Co. C; Scipio Africanus Co. B; John Lery Co. A, Quartermaster Department-- all cooks
Gary's Calvary Brigade: James Barabsha; Guard Bob (slave of David Bridges); Thomas Bowen, teamster; Burress Bowen, teamster; Jim (slave of T.M. Dettrick),teamster; John Bowen, teamster; Jack Caldwell, teamster; Solomon Wright, blacksmith
Donaldson Artillery, Company B: H. Blum, cook; Jno. Mamply, servant; L. Leport, servant; Jno. Semple, servant
Detached Naval Brigade privates attached to Naval Brigade: Charles Cleoper, Joseph Johnson, James Hicks


Did You Know?
Sam Sweeney of Appomattox County, Virginia was the "Minstrel Man" for General J.E.B Stuart, and grew up on the grounds of what is now, Appomattox Court House National Historical Park.