150th Anniversary of the Civil War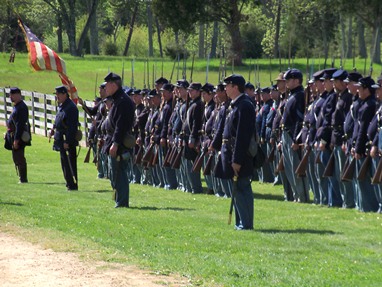 The sesquicentennial at the Park will be centered around real time commemorative events. Below are listed the calender of events between April 8 to April 12, 2015. Those events organized by the Appomattox 1865 Foundation, the Park's friends group, will also be listed below.





Complete list of Events in the Park and County

| | |
| --- | --- |
| 9:00AM | 1865 Foundation: Author's Tent in NPS Historic Village |
| 9:00AM | 1865 Foundation: Wet-Plate Photography in NPS Historic Village |
| 9:00AM | Parole Printing Demos in NPS Historic Village |
| 6:30PM | Real Time Event/Program in NPS Historic Village |
| | |
| --- | --- |
| 7:30AM | Real Time Event/The Battle of Appomattox Court House |
| 9:00AM | 1865 Foundation: Author's Tent in Historic Village |
| 9:00AM | 1865 Foundation: Wet-Plate Photography in NPS Historic Village |
| 9:00AM | Parole Pass Printing Demos in NPS Historic Village |
| 9:00AM | Programming in NPS Historic Village |
| 11:00AM | Opening Ceremony at NPS Historic Village |
| 3:00PM | Lee and Grant Meeting at the McLean House and Departure at NPS Historical Village |
| 6:30PM | 1865 Foundation: Lantern Tours in NPS Historic Village |
| | |
| --- | --- |
| 9:00AM | 1865 Foundation: Author's Tent in NPS Historic Village |
| 9:00AM | 1865 Foundation: Wet-Plate Photography in NPS Historic Village |
| 9:00AM | Parole Pass Printing Demos in NPS Historic Village |
| 10:00AM | Real Time Event/April 10th Meeting of Lee and Grant at NPS Historic Village |
| 10:30AM | 1865 Foundation: Guest Speaker/NPS's Chris Bingham at ACHS |
| 1:00PM | Real Time Event/The Commissioners' Meeting at NPS Historic Village |
| 2:00PM | 1865 Foundation: Guest Speaker/Dr. James "Bud" Robertson, Historian at ACHS |
| 2:00PM | Real Time Event/Confederate Cavalry Surrender at NPS Historic Village |
| 3:00PM | Stacking of Arms Ceremony at NPS Historic Village |
| | |
| --- | --- |
| 9:00AM | 1865 Foundation: Author's Tent in NPS Historic Village |
| 9:00AM | 1865 Foundation: Wet-Plate Photography in NPS Historic Village |
| 9:00AM | Parole Pass Printing Demos in NPS Historical Village |
| 11:00AM | Real Time Event/Confederate Artillery Surrender in NPS Historical Village |
| 3:00PM | Stacking of Arms Ceremony in NPS Historical Village |
| 7:00PM | 1865 Foundation: Civil War ball at APS |
| | |
| --- | --- |
| 9:00AM | 1865 Foundation: Author's Tent in NPS Historic Village |
| 9:00AM | 1865 Foundation: Wet-Plate Photography in NPS Historic Village |
| 9:00AM | Parole Printing Demos in NPS Historic Village |
| 9:00AM | Real Time Event/Stacking of Arms Ceremony in NPS Historic Village |
| 11:00AM | Real Time Event/Stacking of Arms Ceremony in NPS Historic Village |
| 12:00PM | Real Time Event/Stacking of Arms Ceremony in NPS Historic Village |
| 1:00PM | Real Time Event/Stacking of Arms Ceremony in NPS Historic Village |
Those looking for overnight accommodations for the Sesquicentennial should note that space in Appomattox County is limited. The outlying area might serve as a better resource for finding hotel rooms.

Join the National Park Service as it commemorates the 150th Anniversary of the Civil War with events across the nation.

Did You Know?

Two battles were fought here before the surrender. On April 8th, Union cavalry attacked Confederate artillery at Appomattox Station. The next morning, Confederate troops attempted to break out, but were halted by Union infantry and cavalry in the battle of Appomattox Court House.