Antietam National Battlefield Accepts Donation of Medal Of Honor
News Release Date:
June 10, 2008
Antietam National Battlefield Superintendent J.W. Howard announced that on May 9, 2008, Mr. Corey MacLeod of Greenville, South Carolina donated the Congressional Medal of Honor awarded to his ancestor Samuel Cole Wright to the National Battlefield. Sergeant Samuel C. Wright served with Company E of the 29th Massachusetts Volunteer Infantry. He was awarded the Congressional Medal of Honor for gallantry under fire near the Sunken Road (Bloody Lane).During this assault he was wounded in the knee, but refused to return to the rear and remained with his regiment.
The Congressional Medal of Honor Citation reads; "Private Samuel C. Wright voluntarily advanced under destructive fire and removed a fence which would have impeded a contemplated charge. " In addition to the donation of the Congressional Medal of Honor, Mr. MacLeod also donated an original Unit History of the 29th Massachusetts Regiment belonging to Samuel Wright. This donation also included a partial piece of the Regimental Flag.
Superintendent Howard said "We at Antietam are humbled by the generosity of Mr. MacLeod and his family. This is a true gift to the people of the United States and these items will become a part of the Antietam Visit for millions of Americans in the future."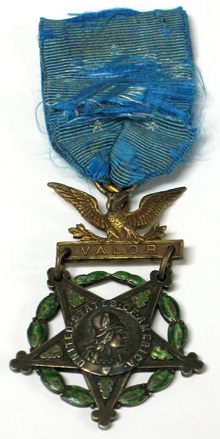 NPS Photo