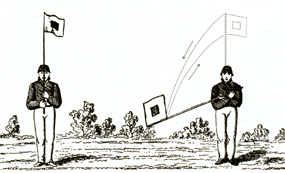 Flags, Torches and Telescopes
Signal parties used different combinations of flag size, color, and staff length to increase the readability of the signal. Signal kits issued by the U.S. Army included seven different flags in three different sizes--2'x2', 4'x4', and 6'x6'. The 2-foot flag, permitted sending a signal over short distances in tactical situations where the flagman had to lie down or signal from cover. The 4-foot flag was the most commonly used. The 6-foot flag was employed for extra long distances. Color combinations were, red or black with a white center square and white with a red center square. In any given situation the color selected was that which gave the best contrast to the background. The flag staff was made of hickory in 4-foot sections.
Myer's Manual of Signals stated that with a 12-foot staff and 4-foot flag, signals "are easily read at a distance of 8 miles at all times, except in cases of fog or rain. They are read at 15 miles on days and nights ordinarily clear."
Special torches, fueled with turpentine, were used to send signals at night. One torch was placed in the ground. A flying torch was mounted on the end of the signal staff. By moving the flying torch form side to side relative to the motionless foot torch, the "1" or "2" could be read.
Telescopes and field glasses were an essential part of a signal party's equipment. Union officers were accountable for their equipment and were under strict orders not to let any fall into enemy hands.