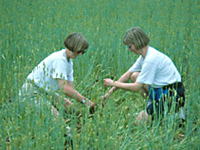 Replanting History


The Antietam National Battlefield began reforesting its historic woodlots in March of 1995. Since that time volunteers have come to the park every spring and fall season with the mission of planting hardwood seedlings to bring the West and North woods to their September 1862 appearance.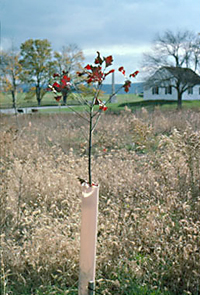 Over an eleven year period, 10,110 volunteers have contributed over 20,000 hours planting 18,132 seedlings and 306 balled and burlapped trees over a fifteen acre area known as the West and North Woods. Volunteers have consisted of boy/girl scout groups, school groups, church groups, individuals and families. The volunteers have been critical in the success of this project; however, there is plenty more to do! Help will be needed this coming Spring to plant balled and burlapped, nursery size trees in the North Woods. Planting of seedlings will also resume during March of with the help of volunteers.
Photo to the left is a new red oak seedling with a protective tree shelter planted in the West Woods. That is the historic Dunker Church in the background.
If you would like to help "replant history" and be a part of this unique opportunity to help restore Antietam National Battlefield, please contact the Natural Resources Division at (301) 432-2243. Planting occurs Tuesday through Saturday from mid-March through mid-May and in the fall from the end of October to the end of November. You must make reservations to participate, all groups and individuals are welcome! If you can't make it to the battlefield, you can
donate online
to support the program.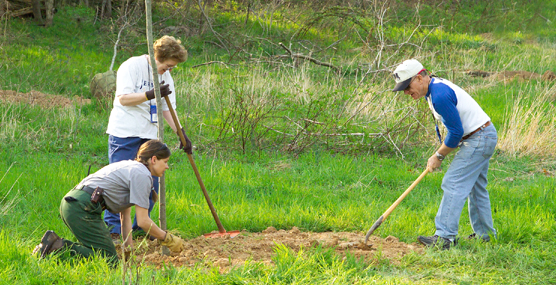 NPS Photo
---
Value the sacrifice and serenity that is
Antietam