There will not be a 2:30 Homestead tour on Sunday September 21, 2014

Due to a pre-scheduled youth event, the 2:30 Homestead tour on Sunday September 21st will not be available. Please join us for free Homestead tours at 9:30, 10:30, 11:30, 1:30 , 3:30 and 4:30. Thank you .
Volunteer
Volunteers-In-Parks (VIPs) show their support by donating valuable time which allows park staff to offer public programs, provide expanded visitor services, and complete projects that would never be possible without volunteer assistance.
For more information about donating your time, expertise and energy contact the Volunteer Coordinator at 423-639-3711.
Did You Know?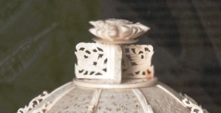 Queen Emma of the Sandwich Islands (now known as the Hawaiian Islands) came to visit President Andrew Johnson in Washington. It was the first time a Queen had visited the White House. She gave this ivory basket to President and Mrs. Johnson. It is now on display in the Andrew Johnson NHS museum.