Volunteer
Volunteers-In-Parks (VIPs) show their support by donating valuable time which allows park staff to offer public programs, provide expanded visitor services, and complete projects that would never be possible without volunteer assistance.
For more information about donating your time, expertise and energy contact the Volunteer Coordinator at 423-639-3711.
Did You Know?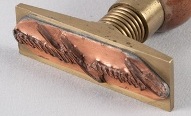 Andrew Johnson was injured in a train wreck in 1857. Afterwards his right elbow was virtually immobile and he often used a signature stamp for documents.