Road and Parking Lot Resurfacing

For the next couple of weeks, road and parking lot repair and resurfacing will be taking place at the park. Be aware that conditions will vary and driving/parking accessibility to some of the site units will be altered.
Support Your Park
Many friends and organizations contribute to the success of Andrew Johnson National Historic Site and National Cemetery. Volunteers-in-Parks, park partners, park friends and cooperating associations provide their commitment, expertise, time and resources to help preserve and share this American treasure. These park supporters preserve and protect our national heritage, our special places and our American history for future generations.


Did You Know?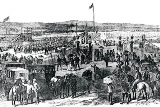 On September 18, 1867, President Andrew Johnson spoke at the dedication of the Antietam National Cemetery. The dedication took place on the fifth anniversary of the battle.