Thursday October 23rd, 2014 1:30 Homestead Tour is Not Available

On Thursday October 23rd, 2014, there will not be a Homestead tour offered at 1:30. The Visitor Center will be closed from 12:00 to 2:00 pm. Tours will resume at 2:30. Please check in at the visitor center after to sign up for Homestead tours.
Donate
Donations to Andrew Johnson National Historic Site & National Cemetery
Would you like to help the Andrew Johnson NHS by donating an item or funds to help with a particular program, event, cemetery or project?
The National Park Service does accept donations of all kinds. Direct park donations may be made for a specific project or to support the park's educational program by contacting park headquarters at 423-639-3711.
Another way to donate to the park's educational program is to donate funds through the park's donation box located in the Visitor Center at 101 North College Street in Greeneville, TN 37743.
Did You Know?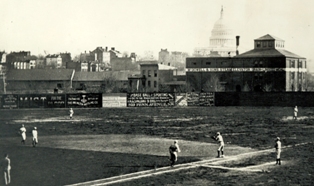 Andrew Johnson enjoyed watching baseball. He was the first President to host a baseball team at the White House, and he gave employees time off to watch a game between the Washington Nationals, Philadelphia Athletics and Brooklyn Atlantics.