There will not be a 2:30 Homestead tour on Sunday September 21, 2014

Due to a pre-scheduled youth event, the 2:30 Homestead tour on Sunday September 21st will not be available. Please join us for free Homestead tours at 9:30, 10:30, 11:30, 1:30 , 3:30 and 4:30. Thank you .
Donate
Donations to Andrew Johnson National Historic Site & National Cemetery
Would you like to help the Andrew Johnson NHS by donating an item or funds to help with a particular program, event, cemetery or project?
The National Park Service does accept donations of all kinds. Direct park donations may be made for a specific project or to support the park's educational program by contacting park headquarters at 423-639-3711.
Another way to donate to the park's educational program is to donate funds through the park's donation box located in the Visitor Center at 101 North College Street in Greeneville, TN 37743.
Did You Know?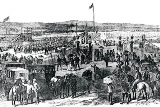 On September 18, 1867, President Andrew Johnson spoke at the dedication of the Antietam National Cemetery. The dedication took place on the fifth anniversary of the battle.