Bookstore
Eastern National is a cooperating association of the National Park Service. Eastern offers books, educational materials, and interpretive items that relate to the themes of the Andrew Johnson NHS and the National Cemetery.
The bookstore is located inside the Visitor Center at 101 North College Street in Greeneville, TN 37743.
A percentage of the proceeds from all sales are donated to the interpretive program
of Andrew Johnson NHS.
Did You Know?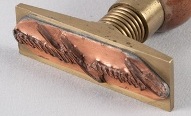 Andrew Johnson was injured in a train wreck in 1857. Afterwards his right elbow was virtually immobile and he often used a signature stamp for documents.