Your Safety
Your safety is important to us.
Please be advised that the doorframes and stairwells in the historic structures may be very low.
Stairways can be steep and narrow.
Be sure to mind your footing on brick sidewalks.


Did You Know?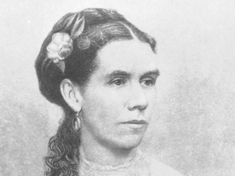 Johnson's daughter Martha found unframed portraits of J.Q. Adams, Van Buren, Tyler, Polk, Fillmore, and Pierce in the White House attic. They were framed and hung on the state floor. President Johnson enjoyed escorting guests through the hall to show the paintings.