Thursday October 23rd, 2014 1:30 Homestead Tour is Not Available

On Thursday October 23rd, 2014, there will not be a Homestead tour offered at 1:30. The Visitor Center will be closed from 12:00 to 2:00 pm. Tours will resume at 2:30. Please check in at the visitor center after to sign up for Homestead tours.
Your Safety
Your safety is important to us.
Please be advised that the doorframes and stairwells in the historic structures may be very low.
Stairways can be steep and narrow.
Be sure to mind your footing on brick sidewalks.


Did You Know?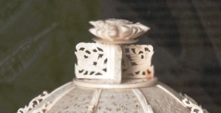 Queen Emma of the Sandwich Islands (now known as the Hawaiian Islands) came to visit President Andrew Johnson in Washington. It was the first time a Queen had visited the White House. She gave this ivory basket to President and Mrs. Johnson. It is now on display in the Andrew Johnson NHS museum.