Your Safety
Your safety is important to us.
Please be advised that the doorframes and stairwells in the historic structures may be very low.
Stairways can be steep and narrow.
Be sure to mind your footing on brick sidewalks.


Did You Know?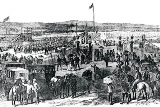 On September 18, 1867, President Andrew Johnson spoke at the dedication of the Antietam National Cemetery. The dedication took place on the fifth anniversary of the battle.