Things To Know Before You Come
Tours
Guided tours are available for the Homestead. Tour times are 9:30, 10:30, 11:30, 1:30, 2:30, 3:30, and 4:30. Visitors must acquire tickets from the Visitor Center, and tickets are available until 15 minutes before the time of the tour. Tickets are not available after this 15 minute cut off. The Homestead is located 2 1/2 blocks from the Visitor Center, and this limit has been initiated to give the guide and the visitors time to reach the Homestead safely, as well as to enable the guide to ready the Homestead for the tour.
Tours of the Homestead require standing, walking, and negotiating three flights of stairs. There are no public facilities at the Homestead. In the summer and winter, visitors should be advised that over half the rooms have outside porch entrances and that they should dress accordingly. Temperatures fluctuate and can be extreme during the summer and winter months.
Parking
Parking is available at the Visitor Center, the Homestead, the Administrative Offices, and at the President's grave-site on the crest of Monument Hill.


Did You Know?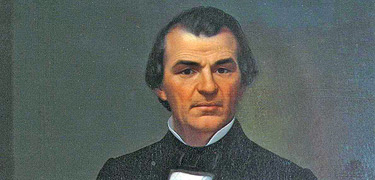 Samuel Shaver, a renowned Tennessee artist, taught at the Oddfellows Female Institute in Rogersville, TN where Johnson's daughter Mary was a student. A Shaver portrait of Johnson was saved during the Civil War by a Greeneville lady who wrapped it in newspaper and hid it in front of her fireplace.