Temporary Closure of the Memorial Building

The Memorial Building, enclosing Andrew Johnson's tailor shop will be closed on September 22 and 23, 2014.
Early Home Wheelchair Lift Temporarily Inaccessible

The wheelchair lift at the Early Home will be temporarily inaccessible during the week of September 22, 2014.
Operating Hours & Seasons
The Andrew Johnson National Historic Site is open from 9:00 a.m. until 5:00 p.m. every day except Thanksgiving, Christmas, and New Year's Day. The National Cemetery will remain open on these days from 9:00 a.m. until 5:00 p.m. The National Cemetery will also remain open until 7:00 p.m. on Memorial Day.
The site may be closed due to inclement weather during the winter months, and the President's Homestead may be closed due to dangerous exterior/interior heat levels during the summer months. Please call the Visitor Center at 423-638-3551 to check conditions.



Did You Know?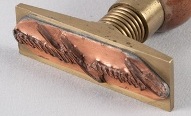 Andrew Johnson was injured in a train wreck in 1857. Afterwards his right elbow was virtually immobile and he often used a signature stamp for documents.