Road and Parking Lot Resurfacing

For the next couple of weeks, road and parking lot repair and resurfacing will be taking place at the park. Be aware that conditions will vary and driving/parking accessibility to some of the site units will be altered.
Guided Tours
Follow the guidelines below for touring the Andrew Johnson Homestead: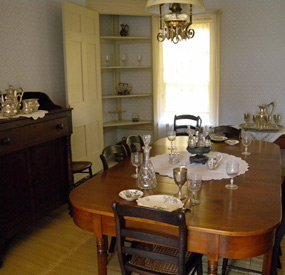 NPS Photo
Tours through the President's Homestead are available at 9:30, 10:30, 11:30, 1:30, 2:30, 3:30, and 4:30. There is no admission charge, but visitors must obtain tickets for a tour at the Visitor Center no later than 15 minutes prior to the tour. Tour sizes are limited to 12. Tours begin on the back porch of the Homestead, and visitors may either walk or drive to the house. Parking is available.
Be aware that in the Fall and Spring, group tours may be going through the Homestead. Any tour full with scheduled groups will preclude the regular tour schedule. Any groups larger than 12 should call the Visitor Center at 423-638-3551 to make reservations in advance.
The home is open for tours daily with the exception of Thanksgiving, Christmas, and New Year's Day.



Did You Know?

Johnson's daughter Martha found unframed portraits of J.Q. Adams, Van Buren, Tyler, Polk, Fillmore, and Pierce in the White House attic. They were framed and hung on the state floor. President Johnson enjoyed escorting guests through the hall to show the paintings.