Directions
Getting There:

GPS
Be advised that the GPS setting for Andrew Johnson National Historic Site may be listed as 121 Monument Avenue, which is the park headquarter's building located in the National Cemetery. To arrive at the site Visitor Center, please use 101 North College Street, Greeneville, TN as your destination.

Plane

The closest airport is the Tri-Cities Regional Airport, 43 miles northeast of Greeneville. From the airport, take I-81 South to exit 36 and follow the signs to Greeneville.
Car

From I-81S take exit 36 to Rt. 172 south to Greeneville. Follow the signs to the Visitor Center.
From I-81N take exit 23 to Rt. 11E north to Greeneville. Follow the signs to the Visitor Center.
The Andrew Johnson Visitor Center is located on the corner of College and Depot Streets in historic downtown Greeneville, TN.


Public Transportation

There is no public transportation available to the site.


Did You Know?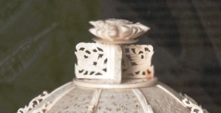 Queen Emma of the Sandwich Islands (now known as the Hawaiian Islands) came to visit President Andrew Johnson in Washington. It was the first time a Queen had visited the White House. She gave this ivory basket to President and Mrs. Johnson. It is now on display in the Andrew Johnson NHS museum.