There will not be a 2:30 Homestead tour on Sunday September 21, 2014

Due to a pre-scheduled youth event, the 2:30 Homestead tour on Sunday September 21st will not be available. Please join us for free Homestead tours at 9:30, 10:30, 11:30, 1:30 , 3:30 and 4:30. Thank you .
Homestead Graffiti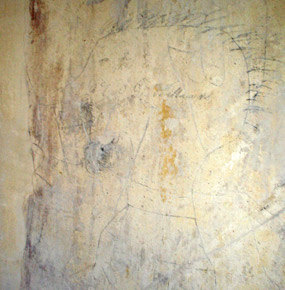 An NPS Photo
With Andrew Johnson's Homestead unoccupied by the family during the Civil War, it became susceptible to anyone who wanted to enter. It was used as a temporary residence, as well as hospital and headquarters for both the Union and Confederate armies.
During the home's restoration by the Park Service in 1956, graffiti was discovered under the layers of wall paper, evidence of soldier's emotions. Although Johnson's daughter Mary covered the graffiti with wallpaper when she prepared the house for the family's 1868 return from Washington, the quotes remain on the plaster walls beneath. On a downstairs wall/this wall, some made gibes at his political career with "Fools names and monkey's faces are often seen in public places." Others swore vengeance - "Andrew you had best skedaddle for Lovejoy is after you and if he git you you are a goner sartin."


Did You Know?

Andrew Johnson was impeached, but not removed from office. He was the first president to be impeached by the House of Representatives and tried by the Senate. Many Republican Senators put their political careers on the line by voting to acquit.