Homestead Graffiti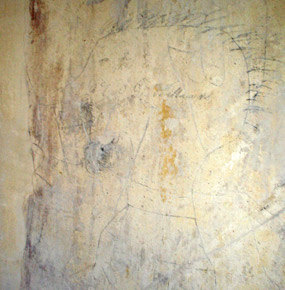 An NPS Photo
With Andrew Johnson's Homestead unoccupied by the family during the Civil War, it became susceptible to anyone who wanted to enter. It was used as a temporary residence, as well as hospital and headquarters for both the Union and Confederate armies.
During the home's restoration by the Park Service in 1956, graffiti was discovered under the layers of wall paper, evidence of soldier's emotions. Although Johnson's daughter Mary covered the graffiti with wallpaper when she prepared the house for the family's 1868 return from Washington, the quotes remain on the plaster walls beneath. On a downstairs wall/this wall, some made gibes at his political career with "Fools names and monkey's faces are often seen in public places." Others swore vengeance - "Andrew you had best skedaddle for Lovejoy is after you and if he git you you are a goner sartin."


Did You Know?

In 1865 Andrew Johnson awarded Dr. Mary Edwards Walker with the Congressional Medal of Honor for her services during the Civil War. She remains the first and only women to receive the medal.