Temporary Closure of the Memorial Building

The Memorial Building, enclosing Andrew Johnson's tailor shop will be closed on September 22 and 23, 2014.
Early Home Wheelchair Lift Temporarily Inaccessible

The wheelchair lift at the Early Home will be temporarily inaccessible during the week of September 22, 2014.
Alcohol Policy
No alcoholic beverages are permitted on site.


Did You Know?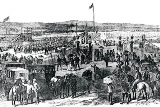 On September 18, 1867, President Andrew Johnson spoke at the dedication of the Antietam National Cemetery. The dedication took place on the fifth anniversary of the battle.