Accessibility
Visitor Center

The Visitor Center, Museum, Memorial Building, and restrooms are accessible. The site orientation film can be shown in closed captioning upon request. An on-site braille brochure is available at the Visitor Center.
Early Home

An elevator is available for access to the first floor of the Early Home.
Homestead

The Homestead is not accessible. In some cases, the kitchen and the first floor may be viewable to those with assistance. A photo tour notebook is available at the Visitor Center and Homestead, and a video tour of the Homestead is available upon request at the Visitor Center.
Cemetery and Administrative Offices

The Cemetery and the first floor of the Administrative Offices are accessible.


Did You Know?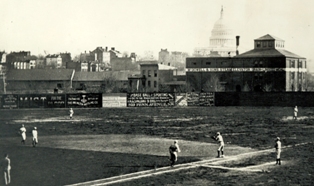 Andrew Johnson enjoyed watching baseball. He was the first President to host a baseball team at the White House, and he gave employees time off to watch a game between the Washington Nationals, Philadelphia Athletics and Brooklyn Atlantics.