Early Home Wheelchair Lift Temporarily Inaccessible

An improved wheelchair lift for the Early Home is being installed. During the transition, the lift will be temporarily inaccessible during the week of September 22, 2014.
News Releases
Andrew Johnson National Historic Site Attains Blue Star Museum Status
Greeneville TN: The Andrew Johnson National Historic Site has been accepted for status as a Blue Star Museum through the National Endowment for the Arts. This program traditionally provides free admission to museum for active duty military personnel and their families between Memorial Day and Labor Day. According to the National Endowment for the Arts website the Blue Star Museum program was a huge success last summer. More than 2,000 museums across the country, from fine arts museums to science and nature centers to historic sites, are participating in the program. More than 700,000 active duty military personnel and their families have participated in the program in 2013. Blue Star Museums has grown larger and given the gift of an outstanding museum experience to thousands of deeply appreciative military families. Blue Star Museums simultaneously strengthens both the museum and military community. More information about participating museums can be found at their website http://arts.gov/national/blue-star-museums.
While the Andrew Johnson NHS is already a fee-free site, registering as a Blue Star Museum provides the opportunity to support the military community on a national level. "We already have a tremendous relationship with the veterans and our military community in Greene County, thanks to the Andrew Johnson National Cemetery," said Superintendent Lizzie Watts. "This is a way to say thank you and show our support for active military personal everywhere." The Andrew Johnson NHS is open Monday-Sunday, 9:00 a.m. – 5:00 p.m. and closed Thanksgiving, Christmas, and New Year's Days.


Did You Know?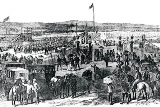 On September 18, 1867, President Andrew Johnson spoke at the dedication of the Antietam National Cemetery. The dedication took place on the fifth anniversary of the battle.