Temporary Closure of the Memorial Building

The Memorial Building, enclosing Andrew Johnson's tailor shop will be closed on September 22 and 23, 2014.
Early Home Wheelchair Lift Temporarily Inaccessible

The wheelchair lift at the Early Home will be temporarily inaccessible during the week of September 22, 2014.
News
arts.gov
The Andrew Johnson National Historic Site is participating in the Blue Star Museum program. Read More.
For the Civil War Sesquicentennial
To recognize and commemorate the 150th anniversary of the Civil War, the Andrew Johnson National Historic Site has created Civil War specific exhibits relating to Andrew Johnson and his family. Andrew Johnson served as Military Governor of Tennessee starting in 1862, and his family either served in the army or spent time as refugees as they struggled to join him in Nashville, TN.
2014 Event Highlights at Andrew Johnson NHS and the Andrew Johnson National Cemetery:
NPS Photo
The annual Memorial Day service took place at the Andrew Johnson National Cemetery on the traditional date of Memorial Day - May 30th. The service was hosted by the American Legion Post #64 and the Greene County Honor Guard. It took place at the President's Monument. The community was invited to join us in the observance of this special day to honor our Nation's war dead.Stephanie Bowers, a retired veteran of the Iraq War was the guest speaker for the occasion, and there was a special recognition of Gold Star mothers.
The Spirit of Sojourner Truth
After the tremendous success of 2013's living history event with Michael Crutcher as Frederick Douglass, "Right is of no sex, and truth is of no color," the Andrew Johnson National Historic Site welcomed Dr. Daisy Century as Sojourner Truth to present "Ain't I a Woman?"
In 2013,
First Lady Eliza McCardle Johnson was featured on
C-Span's "First Ladies: Influence and Image"
series. This broadcast enabled viewers to learn more about this reclusive yet quietly influential lady.
Eliza Johnson is credited with teaching her husband to read and write. He actually had the rudiments of an education, and she helped further it along. Andrew Johnson acknowledged his gratitude in some of his speeches:

Nashville's Union and American synopsis from a Johnson speech at Sparta (1853): "God bless woman! For she had taught him the rudiments of the education which he had."
And from Johnson's remarks at the Tennessee State Fair (1857): "I tell you, my fellow-citizens, the day is coming when it will be seen that the integrity of this government depends upon the education of our daughters."



Did You Know?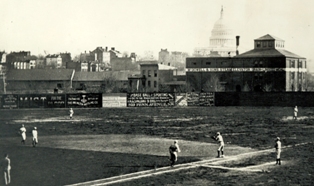 Andrew Johnson enjoyed watching baseball. He was the first President to host a baseball team at the White House, and he gave employees time off to watch a game between the Washington Nationals, Philadelphia Athletics and Brooklyn Atlantics.