Early Home Wheelchair Lift Temporarily Inaccessible

An improved wheelchair lift for the Early Home is being installed. During the transition, the lift will be temporarily inaccessible during the week of September 22, 2014.
Andrew Johnson Presidential Dollar
An NPS Photo
Andrew Johnson
National Historic Site

The United States Mint introduced a new $1 Coin on February 17, 2011, to honor Andrew Johnson, the Nation's 17th President. The event took place at 11 a.m. Eastern Time (ET) on the grounds of the Andrew Johnson Homestead, the former President's historic family home.Chief Counsel Dan Shaver, of the United States Mint was joined by Park Guide Daniel Luther portraying President Johnson, National Park Service Superintendent Lizzie Watts and Bill Hickerson, President Andrew Johnson Bank for the program.
Immediately following the ceremony, the public exchanged their cash for the newly minted Andrew Johnson $1 Coin at face value.The first 500 children, 18 years old and younger, received a new Andrew Johnson $1 Coin to commemorate the event.
Did You Know?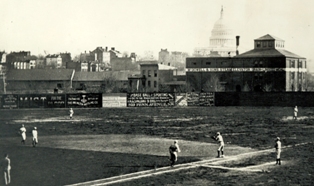 Andrew Johnson enjoyed watching baseball. He was the first President to host a baseball team at the White House, and he gave employees time off to watch a game between the Washington Nationals, Philadelphia Athletics and Brooklyn Atlantics.