Laws & Policies
As of February 22, 2010, a new Federal law allows people who can legally possess firearms under applicable federal, state, and local laws, to legally possess firearms in this park. It is the responsibility of visitors to understand and comply with all applicable state, local, and federal firearms laws before entering this park. As a starting point about state and local firearms laws, please go to the following web site and select the state that you are interested in from the right side of the page:
http://www.atf.gov/publications/firearms/state-laws/29th-edition/index.html
And for state reciprocity agreements:
http://www.tennessee.gov/safety/handgun/reciprocity.htm
Federal law also prohibits firearms in certain facilities in this park; those places are marked with signs at all public entrances.
Did You Know?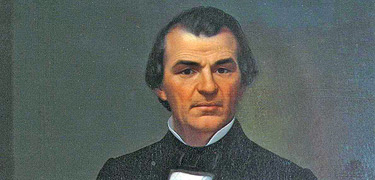 Samuel Shaver, a renowned Tennessee artist, taught at the Oddfellows Female Institute in Rogersville, TN where Johnson's daughter Mary was a student. A Shaver portrait of Johnson was saved during the Civil War by a Greeneville lady who wrapped it in newspaper and hid it in front of her fireplace.