There will not be a 2:30 Homestead tour on Sunday September 21, 2014

Due to a pre-scheduled youth event, the 2:30 Homestead tour on Sunday September 21st will not be available. Please join us for free Homestead tours at 9:30, 10:30, 11:30, 1:30 , 3:30 and 4:30. Thank you .
Getting Ready for 2016
The National Park Service turns 100 on August 25, 2016. To us, it's not about cakes and candles — it's about being an organization ready to take on the challenges of our second century. Our blueprint to get there — A Call to Action — outlines the innovative work we want to accomplish. Andrew Johnson National Historic Site is a big part of this effort. Take a look at what we're doing locally and get involved!
Did You Know?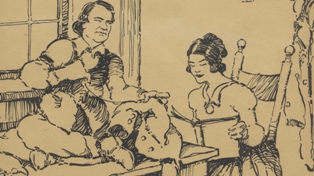 Contrary to popular thought, Eliza did not teach her husband to read. She did help Andrew Johnson build on what he already knew by tutoring him from her schoolbooks. She also read to him in the Tailor Shop while he worked.