Getting Ready for 2016
The National Park Service turns 100 on August 25, 2016. To us, it's not about cakes and candles — it's about being an organization ready to take on the challenges of our second century. Our blueprint to get there — A Call to Action — outlines the innovative work we want to accomplish. Andrew Johnson National Historic Site is a big part of this effort. Take a look at what we're doing locally and get involved!
Showing Results 11- 12 of 12
Andrew Johnson National Historic Site brought history to life for 1,000 local students during Black History Month through a historical performance on the life of Frederick Douglass. Read more

Children enjoying trading Civil War cards. Read more
Did You Know?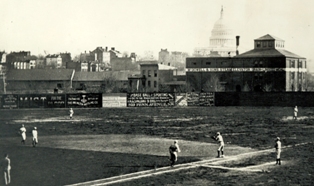 Andrew Johnson enjoyed watching baseball. He was the first President to host a baseball team at the White House, and he gave employees time off to watch a game between the Washington Nationals, Philadelphia Athletics and Brooklyn Atlantics.