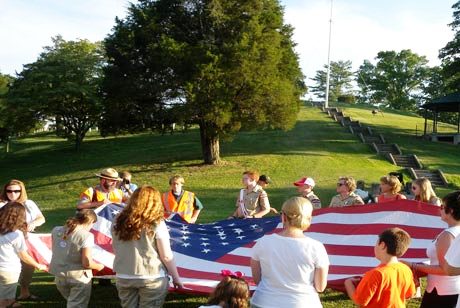 An NPS Photo
"Always and Everywhere, Under One Flag"
Upon his death in 1875, it was President Andrew Johnson's final wish that his body be wrapped in one of the most sacred of our national symbols, the United States Flag. In keeping with this deep reverence for our country's flag, the Andrew Johnson National Historic Site will present a Flag Day Program at 7:30 pm on the evening of Sunday, June 14, 2015. The program will be conducted at the Andrew Johnson National Cemetery located at 121 Monument Ave. in Greeneville.
Visitors are invited to explore and discover more about the origins, history, and etiquette of the U.S. Flag, in addition to taking part in a flag retirement ceremony. The U.S. Flag Code states, "When a flag is worn beyond repair, it shall be retired in a dignified manner, the preferred method is by burning." The retirement ceremony will fulfill this requirement.
Park Superintendent Lizzie Watts says "this program will serve as an excellent opportunity for visitors to witness a patriotic and emotionally moving ceremony normally conducted within the confines of Scouting and Veterans organizations." The Andrew Johnson National Historic Site encourages visitors of all ages, especially Scouts and other youth organizations from the community to attend this program.
An NPS Photo
Reconstruction: Blueprints for a Nation's Future
From April through June, Andrew Johnson National Historic Site will host an exhibit entitled "Reconstruction: Blueprints for a Nation's Future." The post-Civil War period when Andrew Johnson was president is known as the "Reconstruction era" and it was one of the most difficult times in America's history. Our Nation's leaders had the difficult task of deciding how the South would be readmitted into the Union, if and how the former Confederate soldiers should be punished, and what should happen to the former slaves who had recently been emancipated by the 13th Amendment to the United States Constitution. The impacts of the decisions made during Reconstruction are felt even today.
This exhibit, on display in the Andrew Johnson National Historic Site Visitor Center, compares the different plans that Abraham Lincoln, Andrew Johnson, and the United States Congress all formulated for restoring the Union after the Civil War. It features a pardon issued by President Andrew Johnson to former Confederate Colonel Thaddeus Dillard Bryson. Bryson City, the small North Carolina town on the southern boundary of Great Smoky Mountains National Park, is named for Colonel Bryson.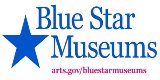 arts.gov
The Andrew Johnson National Historic Site is participating in the Blue Star Museum program. Read More.
Highlights of previous programs at Andrew Johnson NHS: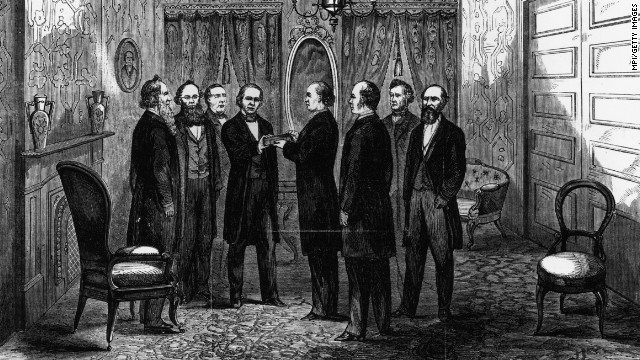 NPS Photo
150 years ago, President Abraham Lincoln was shot at Ford's Theater. After his death on April 15, 1865, Andrew Johnson became the 17th President of the United States. The Andrew Johnson National Historic Site commemorated this historic event at the Visitor Center on April 15, 2015 at 10:00 a.m. with a program and video.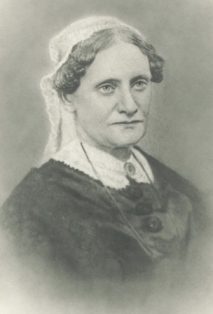 In 2013,
First Lady Eliza McCardle Johnson was featured on
C-Span's "First Ladies: Influence and Image"
series. This broadcast enabled viewers to learn more about this reclusive yet quietly influential lady.
Eliza Johnson is credited with teaching her husband to read and write. He actually had the rudiments of an education, and she helped further it along. Andrew Johnson acknowledged his gratitude in some of his speeches:

Nashville's Union and American synopsis from a Johnson speech at Sparta (1853): "God bless woman! For she had taught him the rudiments of the education which he had."
And from Johnson's remarks at the Tennessee State Fair (1857): "I tell you, my fellow-citizens, the day is coming when it will be seen that the integrity of this government depends upon the education of our daughters."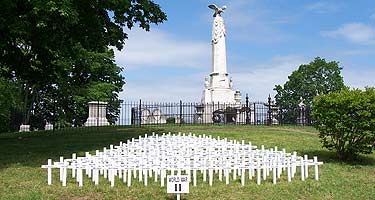 NPS Photo
Memorial Day
The Andrew Johnson National Historic Site and National Cemetery celebrates Memorial Day on the traditional day of remembrance, May 30th. The special program will be held at 11 a.m. on the summit of Monument Hill.