There will not be a 2:30 Homestead tour on Sunday September 21, 2014

Due to a pre-scheduled youth event, the 2:30 Homestead tour on Sunday September 21st will not be available. Please join us for free Homestead tours at 9:30, 10:30, 11:30, 1:30 , 3:30 and 4:30. Thank you .
Impeachment Tickets
An NPS Item
TICKETS ISSUED PER DAY FOR ANDREW JOHNSON'S IMPEACHMENT TRIAL
4 to each Senator
4 to the Chief Justice
4 to the Speaker of the House
2 to each Representative
2 to each Associate Justice of the Supreme Court
2 to Chief Justice of the District of Columbia
2 to Associate Judges of D.C.
2 to Chief Justices of the Court of Claims
2 to each Cabinet member
2 to the General commanding the army
20 to the President
60 to the President pro tempore of the Senate for Reporters
The residue of the tickets were distributed to the Senators.

Did You Know?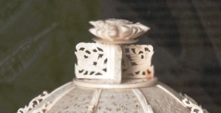 Queen Emma of the Sandwich Islands (now known as the Hawaiian Islands) came to visit President Andrew Johnson in Washington. It was the first time a Queen had visited the White House. She gave this ivory basket to President and Mrs. Johnson. It is now on display in the Andrew Johnson NHS museum.