The 13th Amendment
The 13th Amendment abolished slavery in the United States. It was adopted in 1865.
Section 1
Neither slavery nor involuntary servitude, except as punishment for crime whereof the party shall have been duly convicted, shall exist within the United States, or any place subject to their jurisdiction.
Section 2
Congress shall have the power to enforce this article by appropriate legislation.
Did You Know?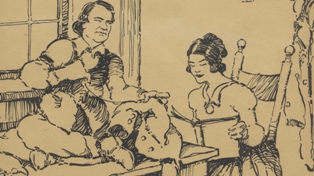 Contrary to popular thought, Eliza did not teach her husband to read. She did help Andrew Johnson build on what he already knew by tutoring him from her schoolbooks. She also read to him in the Tailor Shop while he worked.