There will not be a 2:30 Homestead tour on Sunday September 21, 2014

Due to a pre-scheduled youth event, the 2:30 Homestead tour on Sunday September 21st will not be available. Please join us for free Homestead tours at 9:30, 10:30, 11:30, 1:30 , 3:30 and 4:30. Thank you .
Impeachment Defined
IMPEACH
1a. To make an accusation against

1b. To charge with misconduct in office before a proper tribunal

2. To challenge or discredit
IMPEACHMENT AND THE CONSTITUTION
"The House of Representatives shall...have the sole power of Impeachment." Article I, Section 2
"The Senate shall have the power to try all Impeachments...When the President of the United States is tried, the Chief Justice shall preside. And no person shall be convicted without the concurrence of two thirds of the members present." Article I, Section 3
"The President, Vice President and all civil officers of the United States, shall be removed from office on Impeachment for, and Conviction of, Treason, Bribery, or other High Crimes and Misdemeanors." Article II, Section 4
IMPEACHMENT DOES NOT MEAN REMOVAL FROM OFFICE
The House of Representatives decides if there is sufficient evidence to warrant a Senate trial. The House votes impeachment - the Senate tries the case. Similar to an indictment in a criminal case, impeachment is an accusation of wrongdoing. Any civil officer of the United States may be impeached. Removal from office occurs only after a conviction by the Senate.
Did You Know?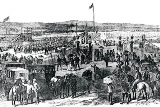 On September 18, 1867, President Andrew Johnson spoke at the dedication of the Antietam National Cemetery. The dedication took place on the fifth anniversary of the battle.