The Freedmen's Bureau Bill
Freedmen's Bureau Bill
First Veto:
1. Johnson was opposed to the use of the military during peacetime.
2. Johnson felt the Bill was a Federal encroachment into state matters.
3. Johnson felt this was "class legislation" for a particular segment of society that:
a. Would keep the ex-slaves from being self-sustaining, and

b. Had not been done for struggling whites (like he had been as an ex-apprentice).
4. Johnson did not feel that Congress should be making these decisions for unrepresented states.
Second veto:
Johnson's second objections were the same as his first.

Did You Know?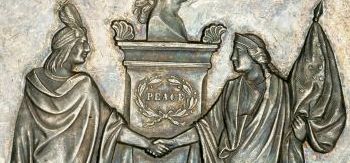 In 1868, Andrew Johnson signed the Navajo Treaty which allowed native people to return to their land in NE Arizona and New Mexico and SE Utah. Part of the land now comprises Canyon De Chelly National Monument.