Early Home Wheelchair Lift Temporarily Inaccessible

An improved wheelchair lift for the Early Home is being installed. During the transition, the lift will be temporarily inaccessible during the week of September 22, 2014.
Curriculum Materials
Browse Our Curriculum Materials
Results
Showing results 1-1 of 1
Andrew Johnson National Historic Site

Students will complete a scavenger hunt for information using primary sources gathered from two of the physical locations at Andrew Johnson National Historic Site. Information the students gather will be used to create an interactive timeline of events in Johnson's life. This activity works best with an on-site visit to Andrew Johnson National Historic Site.

Type:

Lesson Plans

Grade level:

Third Grade - Eighth Grade

Subjects:

Civil War, Government, History, Leadership, Military and Wartime History, Reconstruction, Slavery, U.S. Presidents

National/State Standards:

Tennessee Social Studies Standards: 3.5.01, 3.5.03, 4.5.12 Era 4 Common Core State Standards: ELA Literacy:RI.3.5, RI.3.7 ELA Literacy SL3.1 - SL8.1 ELA Literacy SL3.4 - SL8-4
Did You Know?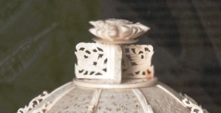 Queen Emma of the Sandwich Islands (now known as the Hawaiian Islands) came to visit President Andrew Johnson in Washington. It was the first time a Queen had visited the White House. She gave this ivory basket to President and Mrs. Johnson. It is now on display in the Andrew Johnson NHS museum.