Park Day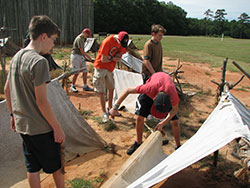 NPS/Andersonville NHS
Join us for the next Park Day on Saturday, April 12, 2014!
Each year the Civil War Trust sponsors Park Day on the first Saturday of April. This event joins parks and volunteers nationwide for a day dedicated to preserving America's Civil War sites.
Volunteers and park employees will work on rebuilding a replica prisoner shelter in the northeast corner of the prison site.
For information on volunteering for Park Day, contact the park at 229 924-0343.
Did You Know?

The largest artifact in the National Prisoner of War Museum is the "Sack of Cement Cross" from Camp O'Donnell in the Philippines. The total height of the cross is 8 ft. The cross was built as a memorial to American prisoners who perished in the camp.