New Operating Hours for the National Prisoner of War Museum

Beginning Monday, May 13, 2013, the National Prisoner of War Museum will adopt new operating hours of 9:00 a.m. to 4:30 p.m. daily. More »
Park Day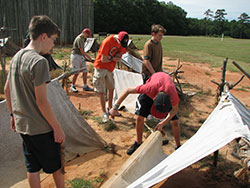 NPS/Andersonville NHS
Join us for the next Park Day on Saturday, April 6, 2013!
Each year the Civil War Trust sponsors Park Day on the first Saturday of April. This event joins parks and volunteers nationwide for a day dedicated to preserving America's Civil War sites.
Volunteers and park employees will work on rebuilding a replica prisoner shelter in the northeast corner of the prison site.
For information on volunteering for Park Day, contact the park at 229 924-0343.
Did You Know?

A small number of Andersonville prisoners were able to grow crops such as beans and corn. Prisoner diaries and sketches mention this fact and a photograph taken in the summer of 1864 shows corn stalks growing near a shelter. Such an undertaking would require constant guard and demonstrates that prisoners knew they might be captives at Andersonville for quite some time.