Park Day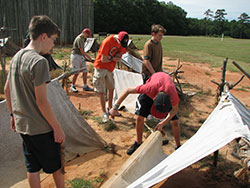 NPS/Andersonville NHS
Join us for the next Park Day on Saturday, April 11, 2015!
Each year the Civil War Trust sponsors Park Day on the first Saturday of April. This event joins parks and volunteers nationwide for a day dedicated to preserving America's Civil War sites.
Volunteers and park employees will work on rebuilding a replica prisoner shelter in the northeast corner of the prison site and other projects.
For information on volunteering for Park Day, contact the park at 229 924-0343.
Did You Know?

It rained 22 days during the month of June 1864 at Andersonville. Prisoner Warren Goss remembered, "it was miserably wet, dirty, and disagreeable with unpleasant odors. Neither could one get accustomed to, or be able to blunt the senses to, the existence of so much misery."