Echotaps at Andersonville NHS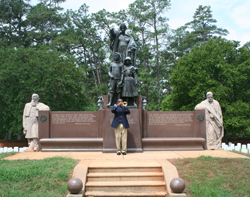 NPS/Andersonville NHS
On Armed Forces Day, the third Saturday of May, the solemn tune Taps will be sounded at every National Cemetery and U.S. Veterans Cemeteries worldwide at 11:00 a.m. This tribute to veterans is called Echotaps.
The public is encouraged to be at Andersonville National Historic Site to witness this unique tribute. The National Park Service maintains fourteen National Cemeteries nationwide. Two of these, Andersonville National Historic Site and Andrew Johnson National Historic Site are classified as active, continuing to bury veterans and their dependents. All National Cemeteries within the National Park Service will serve as host sites for this commemorative event.
In 2013 EchoTaps will occur in the National Cemetery on Saturday, May 18.
Did You Know?

Buried in grave 3585 is Corporal James Gooding, 54th Massachusetts Infantry, who died at Andersonville on July 19, 1864. A sailor before the war and highly educated, his letters describing his experience as a soldier were published in a Massachusetts newspaper and he wrote to Abraham Lincoln requesting equal pay for black soldiers. More...