New Operating Hours for the National Prisoner of War Museum

Beginning Monday, May 13, 2013, the National Prisoner of War Museum will adopt new operating hours of 9:00 a.m. to 4:30 p.m. daily. More »
Echotaps at Andersonville NHS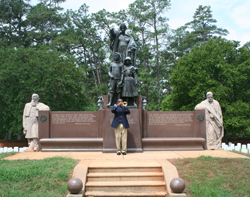 NPS/Andersonville NHS
On Armed Forces Day, the third Saturday of May, the solemn tune Taps will be sounded at every National Cemetery and U.S. Veterans Cemeteries worldwide at 11:00 a.m. This tribute to veterans is called Echotaps.
The public is encouraged to be at Andersonville National Historic Site to witness this unique tribute. The National Park Service maintains fourteen National Cemeteries nationwide. Two of these, Andersonville National Historic Site and Andrew Johnson National Historic Site are classified as active, continuing to bury veterans and their dependents. All National Cemeteries within the National Park Service will serve as host sites for this commemorative event.
In 2013 EchoTaps will occur in the National Cemetery on Saturday, May 18.
Did You Know?

Contrary to popular belief, Captain Wirz was not the only person tried for war crimes during and after the Civil War. Nearly 1,000 individuals were charged with violating the laws of war during the conflict. Wirz is likely the highest ranking officer of the Confederate army to have been convicted of a war crime. More...