Echotaps at Andersonville NHS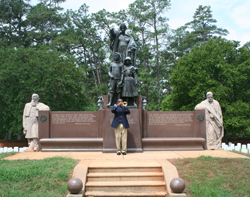 NPS/Andersonville NHS
On Armed Forces Day, the third Saturday of May, the solemn tune Taps will be sounded at every National Cemetery and U.S. Veterans Cemeteries worldwide at 11:00 a.m. This tribute to veterans is called Echotaps.
The public is encouraged to be at Andersonville National Historic Site to witness this unique tribute. The National Park Service maintains fourteen National Cemeteries nationwide. Two of these, Andersonville National Historic Site and Andrew Johnson National Historic Site are classified as active, continuing to bury veterans and their dependents. All National Cemeteries within the National Park Service will serve as host sites for this commemorative event.
In 2013 EchoTaps will occur in the National Cemetery on Saturday, May 18.
Did You Know?

The Sultana was a steamboat on the Mississippi River that sunk on April 27, 1865, after its steam boiler exploded. Of the 2,400 passengers on board, an estimated 1,600 were killed. A majority of the passengers, a little over 2,000, were Union soldiers many of whom had survived Andersonville prison and were returning home. Most of these men had survived the horrors of Andersonville only to be lost in what became the greatest maritime disaster in the history of the United States.